The makeup tool you choose makes all the difference between good makeup and shoddy one. This article will take you through a set of makeup brush set reviews to aid your purchase.
Professional makeup artists know never to compromise on the quality of makeup brush set they choose to use. For a newbie, choosing the right makeup brush could mean going on an endless hunt through a list of unknown brands to figure out what works best for you.
But how is this even possible when there are brands priced as high as $650? What do you do if you have a modest budget?
Well, that's where we come in. We've decided to put together makeup brush set reviews, highlighting the 10 best makeup brush sets below the $30 mark. This list only includes full sets or sets with all the brushes required for a full face (including powder, foundation, basic eyes and blush).
1. USpicy makeup brushes
These ones come packaged in an exquisite gift presentation box that can also double as a handy storage box when the brushes are NOT in use. Also included in the package is a small booklet that briefly describes each brush plus the steps to follow whilst using them.
The set contains 32 pieces of quality makeup brushes made from synthetic fiber and NOT natural hair as with majority of the makeup brushes on the market. They as such do NOT shed and are both super-soft and dense. They also dry up quickly and are very easy to wash.
The brushes can be bought at Amazon where they are currently retailing at $19.99 USD, with free shipping to those ordering it from the UK.
2. Real Technique's core collection kit
Real Technique are thought to be one of the best makeup brush brands on the market at the time of writing this.
Core collection happens to make one of the most sought-after makeup products.
Going at $18 USD on Amazon, every ordered package of the set comes with a contour brush, pointed foundation brush, buffing brush and a panoramic case that you can use to store the brushes, dry them or carry with you when travelling.
Their bristles are made of taklon, which makes them not only ultra-plush, but 100 percent cruelty-free and very smooth.  Not to mention, come wrapped up in a foldable black case that can also double as stand.
3. Start Makers' bamboo makeup brushes
These brushes are 100 percent premium quality, wool-rich, and very soft and smooth. They never prick your face and are widely liked for providing an excellent feeling when rubbed across the face.
The set has all the brushes you'll ever need for all your makeup needs. From the large blush brushes to the fine eyeliner brushes, their package has all the brushes a novice makeup artist or a professional one will have.
Also included is a free silicone brush cleaning tool which makes it easy for you to clean your brushes. Mind you, cleaning your brushes is essential to maintaining a flawlessly glowing skin.
The bamboo handle, fresh color and the hard-wearing piano paint texture work together to suppress bacteria growth; which in turn ensures your skin is freed from infections.
The kit can be bought on Amazon, where it's currently selling at $9.99 USD with free shipping when ordered within the UK border.
4. Start Makers' pink makeup brush kit
The kit comes with 32 brush pieces with one extra brush that closely resembles a sponge beauty blender.
The brushes arrive wrapped up in a protective casing, placed in a wrapped bag and stowed inside a stunning package.
The first thing you'll love about the brushes is the level of professionalism the company pays to details. For instance, in addition to each brush having a plastic protection, they also spot an official marker that sets them apart from the rest of the brushes in the market.
Those looking forward to own the set should visit Amazon where the product is currently being retailed at $18.50 USD.
5. Abody 9pcs makeup brush kit
This is NOT only one of the best makeup brush brands on the list, but also one of the cheapest. Going for $8.99 USD, the kit comes with 9pcs of different sized and shaped brushes.
The kit was designed with the sole aim of helping you try out different looks. It's the set to go for if you're planning to experiment on your looks before deciding on that one style you think suits you best.
Even more interesting is that the brush never fades. Neither do the hairs drop off. It might be cheap, yes. But that's NOT to say the company lowered the price at the expense of quality.
6. LyDia UK STOCK Pro 10pcs
This set consists of 24 super soft, hand-made brushes with wooden handles that make makeup application a whole lot fun.
The package ordered arrives with a free case for carrying, lip brush, concealer and foundation.
The set is currently being sold at $48.36 USD on Amazon. If you live in the UK you would be able to get this kit for only £6.69!
7. Demarkt Pro wool makeup brush
Taking the 7th place on this makeup brush set review is the Demarkt Pro Wool Makeup brush, which boasts 20 brushes.
The brush bristles are made of synthetic hair while the handle is made of wood. Every package ordered comes with all the basics you need for your daily makeup application.
The set works perfect for both professional and home use, more so as it makes everything easy—from sticking powder and natural color, to rendering uniformity.
You only need $4.88 USD to own the kit. That makes it the cheapest set in the list.
8. e.l.f Studio
The staple brush set only costs $36.99 USD. For an essential kit for contouring perfection, the set gives you 11 bundled up brushes that you can carry everywhere with you.
The brushes come wrapped up and packaged in a black case, leaving plenty of room that you can use to store your eye-shadow primer, eye liner and ride or die mascara.
9. Bh Cosmetics bright 6-pc brushsSet
If you're out shopping for a budget-friendly brush set, look no further. This could be the kit for you.
Among the plusses, there's the sleek white and gold packaging which you can also use as storage. The brush bristles are made of synthetic fiber that enables them to serve multiple functions.
The set is currently going at $12.50 USD on Amazon.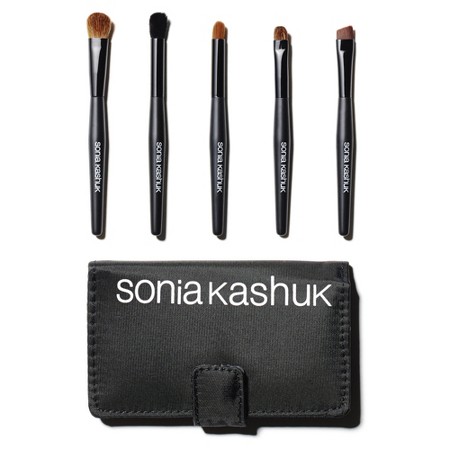 10. Sonia Kashuk essential 6-pc set
The Sonia Kashuk essential 6-pc set package contains an angled eye-shadow brush, mirror, large eye-shadow brush, smudge brush, and foam applicator brush.
It makes a great choice if you're looking for small brushes that you'll be using while on the go.
At the moment Amazon is selling the package at $19.50 USD, which isn't bad considering the kit has brushes that cover all your makeup needs.
Wrap up
We hope you've enjoyed this set of makeup brush set reviews. If your budget has some elasticity, don't skimp on that one thing that may provide you with that added benefit. Go on, treat yourself! Ooooh and I also recommend you check out the Bobbi Brown Basic Brush Collection to find out what it can do – trust me, it's worth it.