If you would like a comprehensive overview of mineral foundation this is the post for you. In this article we will cover our top 4 Glo minerals makeup reviews.
Within the makeup industry, we come across a plethora of makeup brands. In the midst of these multiple makeup brand options, we find a select few who stand out from the rest. These brands are known for their excellence, quality, and attention to detail regarding the many challenges women face in finding the correct makeup.
Some of these brands are focused on the professional whereas others are designed for people like you and me. The challenge comes in finding a brand that is both value for money and works for your skin. This is where Glo minerals makeup reviews come into play.
With Glo minerals makeup reviews, you will receive a wealth of information that is sure to help you find the best brand for your unique makeup needs and preferences. Without any further delay, I give you Glo Minerals makeup:
About Glo Mineral makeup
Glo Minerals is a mineral makeup brand specifically focusing on providing skincare professionals and women with top-notch makeup. This makeup is triple-milled allowing it to provide lasting and continuous coverage.

Within its formula is a variety of mineral ingredients focused on protecting your skin. Some of these ingredients include the powerful antioxidant power of Vitamins A, E, C and Green Tea and anti-inflammatory ingredients. As a result, you can be sure that your skin is benefiting from a non-comedogenic and talc-free product as well as UV-ray protection.
What sets Glo Minerals apart from other mineral brands is the founding of its line of luxe mineral makeup products tailor made for professionals in the cosmetic and dermatology professions. In addition to this, Glo Minerals has received several prestigious awards for its incredible formulation.
Typically, Glo Minerals sells a variety of products including makeup, skincare and body care.  Within the makeup category, you will find:
foundation priced usually between $37-$56,

blush for as little as $26-$36,

bronzers in the $40 range

lipsticks and glosses between $16 and $18

eye shadow ranging from $19 to $64 (usually the palettes)

Mascara is available between $18 and $20

Liners range between $12 and $20
Glo Minerals makeup reviews show a variety of personal experiences on the various products sold by Glo Minerals. Of these reviews the Glo Minerals Pressed Base seems to be the most loved as well as their eye pencils, serums and cleansers.
My top 4 Glo Minerals foundation reviews
To help you navigate the array of Glo Minerals foundations, we have compiled 4 Glo-Minerals makeup reviews on the Glo Minerals foundations.
Within these Glo Minerals makeup reviews we will look at the quality of products, price range, and pros and cons.
Glo Minerals pressed base golden medium is a foundation that will leave your skin well covered and flawless. Within its composition are minerals, such as zinc and titanium dioxide and green tea which serve to protect your skin from the harshness of the sun's UV rays and other radicals. Other ingredients include: mica, iron oxides, bismuth oxychloride and parabens.
The Glo Minerals golden medium works for a variety of skin types including sensitive skin. With its light, breathable composition this foundation does not clog your skin's pores thus reducing your risk to allergies or acne breakouts. For darker blemishes, you may find a concealer underneath this foundation will provide the best coverage results.
Although this foundation has a log of positive Glo Minerals makeup reviews, a few points should be mentioned. Whether you use a brush or the applicator sponge, be aware that you may lose a lot of powder as you apply to your face. This particular shade is on the lightest range of the spectrum thus more suitable for fair skin than darker skin. Its longevity seems to be a bit in question thus our recommendation is to be aware that you may need to reapply your foundation half way through your day.
That being said, many Glo Minerals makeup reviews have raved about this foundation as one they would not want to do without. Amazon.com is currently selling this product for $26.54 including free shipping.
Offering women a medium to full coverage on their facial skin, this protective liquid foundation comes in a thick liquid reducing the ease of applying it for the improved coverage. This product is not suitable for oily skin, however those with dry to sensitive skin or a combination of dry and sensitive will benefit from this product.
For best results, combine this liquid foundation with a Glo-minerals primer or powder to get the most out of its benefits.
One of the pros of this protective liquid foundation is in its ease of application since you can use both a brush or your finger. It may require a bit more attention on blending it beautifully into the skin but this may also be a personal experience with the product.
Regarding the undertone of this foundation, it's more of a "yellow base" making it a warmer shade than some of the other shades within the Glo Minerals foundation range. Thus, it works well on skin that has a pinker tinge to it. Getting color matched at your local cosmetic store will help guarantee that you purchase the correct shade for your skin tone.

When it comes to humidity, this liquid foundation does not hold up well. You may want to avoid using this makeup if you are going to a humid area or participating in activities that will cause a lot of perspiration.
Available at Amazon.com, this product is selling for $25.52 including free shipping. One more final point, the finish of this liquid foundation is more of a matte finish. You can rest assured that your skin won't shine after application.
As a loose base powder, Glo Minerals loose base powder foundation offers women medium to full coverage accompanied with a dew-like finish.  It is talc-free, non-comedogenic and packed with antioxidant minerals.  Its triple-milled process makes this powder foundation smooth and light on the skin. Glo Minerals loose base powder foundation is suitable for normal to dry skin as well as sensitive skin.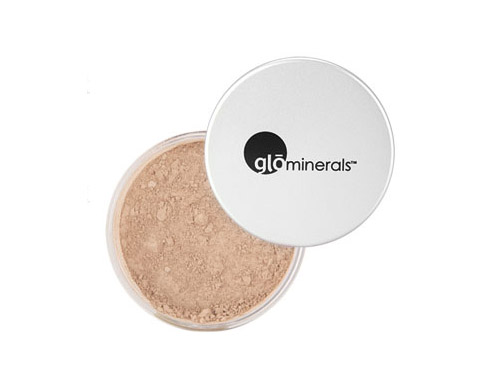 Coming in a beautiful compact, Glo Minerals brings you 37oz of lovely powder foundation. As a light formula, this foundation does not clog pores so oily skin can rest assured that acne or breakouts are less likely.
Because of Amazon's great price of $19.70, this product is selling remarkably fast. Get yours today.
Glo Minerals brings you all the benefits that come with their phenomenal foundation line in this Glo Minerals Luxe liquid foundation with the added SPF 8. Now you can have that extra UV protection while receiving anti-aging benefits. Plus, you get a soft gentle effect at the same time as flaunting a lovely youthful and flawless complexion.
As with all the other Glo Minerals foundation, this foundation is talc-free, non-comedogenic and packed with antioxidant minerals.
For those with oily skin, this particular product may give a more shine look than desired thus if you have oily skin, you may want to test this product at a local provider or store in your area. Dry and sensitive skin have (generally) found it to be lovely and lasting. However, compared to other Glo Minerals products the duration that this foundation lasts may be questionable – user experience of the lasting effect of Luxe liquid foundation seems to be more personal opinion based. Overall, the Glo-Mineral makeup reviews have a high percentage of positive feedback.
Our recommendation
In lieu of the above, we do recommend Glo Minerals range of foundations. Although pricey in comparison to other brand foundations, the value of these foundations is praiseworthy. We love that this range of foundations is mineral based thus eliminating toxins, chemicals and other ingredients that are harsh on the skin causing allergies and breakouts.
We do highly recommend that you visit your local stores that sell Glo Minerals products in order to determine the correct shade for your skin. This will also give you an opportunity to test the product on your skin before buying it.  A lot of the Glo Minerals makeup reviews that have had more negative feedback has surrounded incorrect color expectations when purchasing online.
That being said, Glo Minerals is a fantastic brand that gives you beautiful mineral based products that are light on the skin and easy to apply.