Over the last few years, there has been a rising number of people switching to organic makeup and natural products. People are not only becoming more aware of what processed things do to the environment, but also what it does to our bodies.
Organic makeup has growing popularity. People are starting a movement to prevent adding excess toxins into their bodies. We are constantly coming into contact with harmful toxins, so it has become important to avoid toxins when we have the chance.
Makeup during a pregnancy should be a very popular topic, but it isn't. Pregnant women are supposed to avoid anything that can be harmful to the body, yet makeup cannot be tested on pregnant women to know if the toxins can affect the baby. This is when it is of the upmost importance for a pregnant woman to be able to find affordable organic makeup companies.
In order for a cosmetic company to claim to be organic, their products must contain organic ingredients of a minimum of 70%.  Anything less than 70% and they are not organic, so make sure you are reading the labels before you buy!
I recently made the switch to affordable organic makeup this year and my skin has never felt or looked better! I have less issues with dry and oily skin and less breakouts. Organic products have helped my skin even out the issues without having to use a multitude of products. Since an excellent, affordable organic foundation is so difficult to find, that is what will be my focus.
Ecco Bella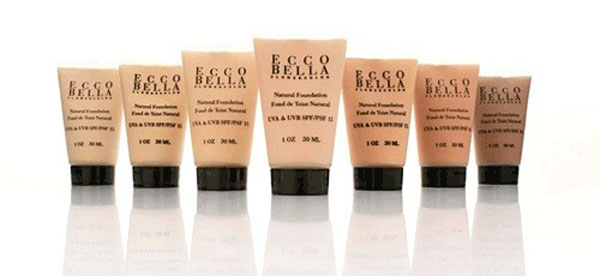 My first choice for affordable organic makeup is Ecco Bella. The FlowerColor Natural Foundation is absolutely amazing! This foundation is water based, with moisturizing components like aloe, but does not make your skin feel oily. You can wear this all day and not even feel the foundation.
The best part is that I don't feel the foundation seeping into my pores! This is seriously a miracle! When I wear foundation, I feel like I can see my pores grow and it isn't attractive. The FlowerColor has not clogged my pores and I love it! This foundation also contains a UVA/UVB sunscreen to prevent sun burns. I burn quite easily, especially in Arizona, and this was a huge selling point for me. I am constantly looking for a good makeup with sunscreen so I don't have to apply sunscreen over my foundation. That makes my face feel nasty, so this was perfect.
With all that said, there is one problem with this foundation that might be a problem for some people. This foundation doesn't have the best coverage. At best, I would give it a medium coverage. It doesn't cover acne or any other skin blemishes as well as I had hoped, so it could be considered more of a BB cream. This is the biggest flaw I have found with the foundation, so if you want more of a complete coverage you would need to buy concealer to help cover.
I also have a different complexion, I have some redness in my face with some light yellow undertones. Because of this, I have a very tough time finding foundation that matches me perfectly. I ended up needing to mix two colors to get something closer to my skin tone. When I did, it looked great. So if you are wanting something with a little less coverage, but all the skin benefits then this is your product! Ecco Bella FlowerColor Foundation can be found on amazon at $22.99 for 1oz. This is a very good price for something that works as well as it does and for being organic.
EVXO
Another exceptional company that has affordable organic makeup is EVXO. Their liquid foundation is amazingly organic and vegan with a 90% organic ingredients rating. This foundation has been amazing on my sensitive skin, since it contains Vitamin E and aloe. As long as you use a little bit of the foundation, the coverage looks perfect. However, you will see your pore size double if you use too much.
With that said, this affordable organic makeup has a light, airy feel. It won't break out your skin or dry it out with harmful ingredients. This foundation gives you the perfect finish, not too shiny but it doesn't wash out the color in your face either. There are some downsides to this makeup, however. Obviously, unknowingly using too much foundation and making your pores look like craters is unfortunate.
There are also only 4 foundation colors. If you happen to be outside the range of those colors, then that's unfortunate too. Also the smell of the foundation is pretty sweet, like flowers. That's all nice and dandy, but I am highly sensitive to smells and this one almost sends me over the line straight to a headache. It's a fine line and this foundation is extremely close to crossing it. You can find EVXO foundation on Amazon for $25 and it definitely falls into the affordable organic makeup category.
Physician's Formula
The last company that produces affordable organic makeup that I will cover is Physician's Formula. The beauty of this company is that it can be found in pretty much every store and it's incredibly inexpensive.
Now, if you look at the actual company's website, it's difficult to tell if the products are actually organic. I did find a foundation though called Physicians Formula Organic Wear CC Cream. This affordable organic makeup is perfect for sensitive skin. It goes on light and blends perfectly!
Once again, only use a little bit of this foundation so your pores don't look huge and the makeup won't look caked on. Here's the thing to remember with makeup, you get what you pay for. This foundation is incredibly cheap and it's not going to be as good as higher priced foundations, but it does the trick if you are in a bind or don't want to spend much on foundation.
You will also have to reapply this makeup later in the day if you intend to use it for long-wear. This foundation can be found on Amazon for $9 and is one of the cheapest organic foundations on the market.
Affordable organic makeup isn't too hard to find, it honestly depends on your budget. Honestly, I would choose Ecco Bella and give it a 5 star rating. They have amazing foundation, lip products, and anything else you could want for an affordable price.
Always remember that it's important to do your research and make sure the companies you are purchasing from are actually producing organic products like they claim. Now, I hope you love these brands and send me your opinions on these brands and other affordable organic makeup!