Finding an airbrush makeup kit that is affordable yet still rated as one of the best airbrush makeup kits currently available can be tricky. After all, you are basing your decision to purchase on the many customer reviews whether on Amazon, YouTube or your favorite beauty bloggers.
Fortunately, not all airbrush makeup kits are expensive. Photo Finish provides an airbrush makeup kit that is both affordable and great quality. Read our Makeup Tip's guide for advice on what to look for in a great airbrush makeup kit.
Airbrush makeup kit components
The Photo Finish airbrush makeup kit is made up of the airbrush gun and compressor, five shades of foundation makeup, blush, concealer, shimmer, an anti-aging primer and a silica finishing powder. This lovely airbrush makeup kit holds everything you need for both beginner and professional airbrush makeup.
The compressor contains fully adjustable airflow settings to help you regulate the amount of makeup mist escaping your airbrush gun. Powering your compressor is a 12V DC and an 110 AC plug adapter.
The gun itself is a precision single-action gravity feed gun with a 0.3 mm tip and a small cup to hold your makeup in.
Finally holding all these beautiful tools and products together is the deluxe carry bag.
Product tips
Practice spraying on your hand until you get the hang of the airbrush gun and spray. Be sure that your lotions are completely dry otherwise, your makeup will look tacky.
Watch the video on the Amazon product link to learn how to apply airbrush makeup using Photo Finish. You can also watch other videos on YouTube to learn the basics of airbrush makeup application.
When cleaning your airbrush gun, avoid using hot water and go for some alcohol followed with warm water. Clean your airbrush gun between makeup shades to ensure that your makeup does not mix.
Customer Reviews
Overall Amazon customers have found that while there is limited information on Photo Finish products on the internet and YouTube, the system is great for beginners.
Cindy found that as a woman in her mid-fifties, the Photo Finish Airbrush Kit allowed her to achieve a beautiful look while disguising her wrinkles and age spots. Plus, the makeup stayed beautiful throughout the day.
Emily found Photo Finish to be one of the best airbrush makeup kits and for its price of $98 you get your money's worth. For Emily, the Photo Finish makeup provides great coverage even though it is more water resistant and not waterproof.
The cons of Photo Finish airbrush makeup kit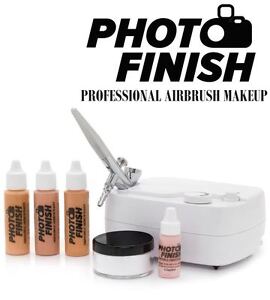 Amazon customer and professional makeup artist, Donna found the Photo Finish Airbrush kit to be a disaster. Not only did the airbrush gun spray a blast of makeup instead of a mist, her skin is now characterized with broken capillaries that will need to be laser out.
Danie was also disappointed with Photo Finish stating that the gun does not spray a soft mist but rather splotches of makeup which then dry into a cakey look on your face.
Other customers found that the airbrush gun worked beautifully first time round after which it stopped working. Further complaints of uneven and cakey makeup have been left on Amazon causing one to question the quality of this airbrush makeup system.
Our recommendation
For beginners, Photo Finish is a great introduction to airbrush makeup. I wouldn't go so far to say it is the best airbrush makeup kit available. I think that Dinair is still among the best on the market and more value for money. That being said, Photo Finish will make a great starter to airbrush makeup for those on a budget. My final encouragement is that you do your research and choose a product that you think will work for you. Of course, it's a matter of trial and error so be open to potentially buying a product that may not work beautifully for you. If you know someone with an airbrush gun, try theirs and see if you like it before buying your own.