Chanel! Almost every beauty and woman dreams of owning Chanel makeup at least once in their life. Of course, Chanel blush reviews sing Chanel's praises adding to the exclusivity that is Chanel. As a high-end quality brand, Chanel promises its customers the best when it comes to makeup. Mostly customers are never disappointed in the quality and beauty of Chanel's products.
If a complaint did exist towards Chanel it would be that some customers have found their favorite blush shade disappearing off the market due to being a limited edition. However, this is a small price to pay for gorgeous blush.
Overview of Chanel blush
Chanel blush reviews from beauty bloggers and other makeup reviewers have continued to release positive reviews on Chanel's blushes including their newest release of cream blushes.  Each of Chanel's blushes come in a black square compact container with their logo on the lid with a full sized mirror on the inside.
Chanel's powder blushes come with an added brush whereas the cream blushes do not. Chanel blush reviews do talk about the blush brushes not being the best of qualities. Depending on your preference, these brushes may be adequate for on-the-go reapplication of your blush; however, another blush brush may be better to get the effect you are after. It all depends on your personal preference.

Made in Italy, Chanel's blushes are exquisite and boast innovative formulas that are sure to give your cheeks a soft light feel when added to your skin. Available in a variety of formulas from powder to cream. These blushes also come in an array of tones suitable for any skin tone. Pick the ones that best suit you or will assist you in completing that gorgeous look you are after no matter the occasion.
According to Chanel blush reviews, baked Chanel blush products usually come in a weight of 4g in contrast to their non-baked blush which averages a 6g per blush product. In this Chanel blush review we are focusing on the Chanel Joues Contraste baked blushes thus the links provided will be for 4g blush.
Chanel blush is generally scented which can leave a floral type smell in your room should the blush remain open. The scent is a gorgeous rose smell.
The beauty of Chanel blush is that you can work the powder or the cream beautifully into your skin thus helping with blending. The cream based blushes tend to soak into the skin more than the powder which sits more on top of your skin. In the end, the result remains a stunning beautifully blended blush on your cheeks.
Chanel blush reviews
Chanel blushes are the piece de resistance of blushes in the beauty cosmetics world. Although more expensive than some other brands, you can rest assured that you are getting your money's worth of Chanel products when you purchase these exquisite blushes. 
In this Chanel blush review, we review five of Chanel's powder blushes to help you decide which blush to add to your growing blush collection. Perhaps you are looking for a new Christmas gift or want to treat yourself for enduring another year. Chanel is waiting for you. Here are our Chanel blush reviews:
This exquisite Chanel blush can be purchased for $72.97. Although expensive, Chanel blush reviews rave that this gorgeous blush is one of the best in the market. This blush is great for any look that you are trying to achieve. Vary the intensity by building it up on your cheekbones or tone it down by adding only a touch of blush. Whatever your look, Joues Contraste Rose powder blush is sure to keep you looking beautiful and young all day.
Chanel blush reviews are not a dime a dozen. Probably because they are such an excellent beauty product. The Jouse Contraste Powder Blush have limited stock in Amazon's store with only three left. Each Orchid Rose blush is selling for $108.
Chanel justifies this hefty price tag for their 4g blush in quality. Chanel blush customer reviews continue to emphasize the beauty of Chanel products. With it's rich shades of pinks, apricots, and neutrals, the blush range of Jouse Contraste is complimented by the limited Orchid Rose.
This particular shade of blush is perhaps more suited for those with light to medium skin and will blend beautifully onto your cheekbones for either a dramatic or natural look. Get yours today while stocks last.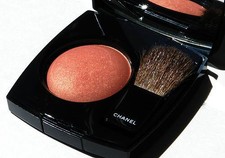 With only a limited amount of stock left in Amazon's beauty store, the Chanel Rose Glacier Powder Blush is selling fast at $107.95. This exquisite blush will help you create that dramatic look or you can blend the blush a bit more subtle for that natural hue. Either way, you can enjoy the silky soft and light feel of this gorgeous Chanel powder blush. This is a popular blush in Chanel blush reviews.
The Joues Contrast Rose Glacier is a limited edition of Chanel powder blush. This lovely blush comes in a 4g weight. While this may not be a lot for $107.95, the Chanel powder blushes spread beautifully across your face thus you do not need to apply a lot.
In fact, a gentle touch of blush is all you need for that silky natural finish. The more dramatic your look, the more you can build up the shade of your blush. Blending is key to getting that perfect finishing touch. Chanel blush reviews from various beauty bloggers and in the beauty industry emphasize the importance of blending and building up the intensity of your blush to the desired effect.
Get yours today while stocks last. What better way to finish off the year than a new Chanel blush to your makeup collection!
The gorgeous Chanel Ultra Rose powder blush is sure to give your cheeks a flattering look whether you are going for dramatic or a more natural feel. This stunning blush boasts a silky texture and easy application of color onto your cheeks. For a more youthful look, apply this blush high on your cheekbones and near your eyes. The result will be a "lifting" and softening of your face for that youthful look. Chanel blush reviews have found this gorgeous blush to be a more vibrant and bold blush than some of the other shades within the Joues Contraste range.
Stocks are available at Amazon.com for $130 and if bought soon you will receive your gorgeous Chanel Jouse Ultra Rose powder blush anytime between November and December.